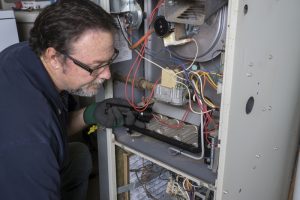 Living in Illinois means dealing with some seriously cold temperatures over the course of the heating season. If you really want your heater to rise to the occasion and to keep you and your family comfortable, then it is vital that you schedule routine heating maintenance with a professional HVAC contractor in Naperville, IL. This is a much more involved process than some homeowners may realize, and your heating tune-up is really not the type of job that you can handle on your own.
Sure, there are some very basic heating maintenance tasks that you can and should take care of yourself. These include replacing your air filter as needed, as well as keeping the area surrounding your furnace, boiler, or heat pump's outdoor unit clean and clear of debris/clutter. That is really just the tip of the iceberg, though. A much more thorough tune-up must be completed by a qualified technician if your heater is to continue operating at peak performance and efficiency levels.
Why Do I Need to Schedule Maintenance, Anyway?
Annual maintenance is the key to ensuring that your heater stands the test of time and that it provides you with the quality performance that you deserve. As your heater works hard to keep you warm and cozy throughout the winter season, it is going to accrue some general wear and tear. This is unavoidable, and it doesn't have to be to the serious detriment of your system. That being said, allowing that wear and tear and to go unchecked is definitely going to lead to some potentially serious problems down the road.
Your system is not going to function as efficiently as it would if it were well-maintained, so you are going to wind up paying more than you should have to in order to heat your home. It also won't function as reliably, and will require more frequent repairs than if it were routinely maintained. In all likelihood, your system is not going to last as long as it should if you fail to have it tuned up regularly.
So What Happens During Maintenance?
Quite a lot actually. Yes, the filter is going to be changed out for a fresh one, and the system itself will enjoy a deep clean within the unit. However, all moving parts will also be lubricated. Components such as the system controls and thermostat will be tested for proper function, and all electrical connections will be tightened up. Voltage and amperage will be checked for proper levels, and the condensate drain pan and assembly will be assessed and, if necessary, cleaned.
Your safety benefits from routine maintenance as much as your comfort and budget do. All oil/gas connections will be evaluated, and your burners or heating elements will be inspected and cleaned as needed. All this results in a great heating performance that is as safe as it is reliable, so it's really not a service to overlook.
DuAll Heating & Cooling offers a great maintenance savings plan to make annual maintenance easier than ever!