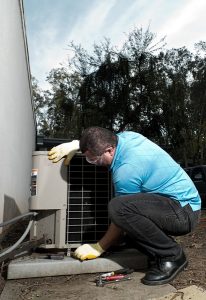 If you're taking on the task of providing heating and cooling for a commercial space, you know that finding the best unit for your space proves to be difficult. There are many variables to consider when choosing what HVAC system is right for your business. Commercial HVAC is fundamentally the same as residential HVAC, but there are certain aspects that need precise attention because the heating, cooling, and ventilation are all happening on such a large scale.
Commercial rooftop units provide comfort, convenience, and flexibility. If you're looking to install a commercial rooftop unit, look no further than DuAll Heating & Cooling. We provide the best commercial HVAC in Naperville, IL.
The Benefits of a Rooftop Unit
Greater Flexibility
If you have your system installed on the roof, it means that you can add to it if you expand the facility, add tenants, or redesign the space. Additionally, if you decide that you need to redistribute airflow to meet new or changed cooling and heating needs, you can move the nodes around. You can also tailor the temperature settings on the various nodes to match certain areas of the building.
Easier Maintenance
The placement of the system also allows for convenience when it comes to maintenance. Commercial rooftop heating and cooling units allow the service technician to perform routine maintenance or even repairs out of sight and out of mind. You won't have to miss any days conducting business because the tech doesn't even need to enter the building.
Reduced Noise
Manufacturers make new HVAC units with the intention of having them perform as quietly as possible, but even so, they still emit some noise. An HVAC system mounted on your roof is completely out of earshot of you, your employees, and your customers.
Better Safety and Cleanliness
If your HVAC system is on the ground floor, it will be exposed to more dirt, dust, debris, and even litter. If there's a lot of foot traffic, it's also subject to accidental damage, theft, or vandalism.
Easy Installation
You may hear a professional refer to a commercial rooftop system as a "packaged" system. They've earned this name because there's just one system for heating and cooling, eliminating the need for separate systems. This makes it easier and cheaper to install than a split system unit.
Get the Most Out of Your Commercial HVAC
Rooftop commercial air conditioning units are not just less expensive and more energy efficient, they also allow convenience, especially if you ever need our team for repairs or maintenance. If you're looking to upgrade from an aged commercial unit, wanting to install, or you need maintenance or repairs, call on us at DuAll Heating & Cooling. Our company is a local, family-owned and operated HVAC company that has served the Greater Chicago Area for the past 12 years. We pride ourselves on treating our customers like an extension of our family.
If you need a commercial HVAC unit installed, assessed, or repaired, we're here to help! Contact us to schedule a service today.