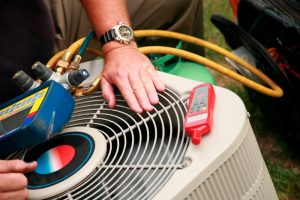 This is something that the most ardent of DIY enthusiasts among us may not really want to hear, but the fact of the matter is that certain jobs around the house do demand the skill and expertise that only trained professionals in the field can handle. This is most certainly the case when it comes to HVAC systems and the services that they demand. When you need an AC or heater installed, repaired, or tuned up, you need to turn to a professional HVAC contractor in Romeoville, IL.
Does this mean that there's nothing you can do at all for your own HVAC systems? No, of course not. It does mean that you have to be aware of your own limitations and recognize what certain situations call for, though. There are basic maintenance and troubleshooting steps that you can take. When the situation is beyond this basic level, however, that's the time to call in the pros!
Installation/Replacement
This is an area where, really, pretty much every step of the process needs to be handled professionally. When a qualified contractor installs/replaces your HVAC system, you'll know that this system is designed properly for your home, that it's of the right size for your heating and air conditioning load demands, and that it's functioning safely.
As for your part, you can certainly do your research before deciding what type of system you'll invest in. There are plenty of options out there, and it behooves you to get to know them all. You should also have a budget worked out beforehand, so we can ensure that the money you have to spend is going toward those features that will benefit you the most.
Maintenance
If you think that you can get by with HVAC tune-ups every few years, think again. Keeping your system well-maintained means that it operates more efficiently, effectively, and reliably than it otherwise would. And no, you cannot handle your tune-ups on your own. Trying to do so means, at best, that a very unthorough job is done. At worst, you'll wind up damaging the system or hurting yourself.
While we do need to handle the bulk of your AC and heating maintenance, you can take certain measures on your own. Keep fresh air filters in place in forced air systems, for instance. Also, keep the outdoor unit of your heat pump or central AC clear of debris. This helps to prevent issues with the heat transfer process and items falling into the fan through the top of the unit.
Repairs
The moment that you notice your HVAC system isn't functioning properly should be the moment that you schedule service with a member of our team for professional repairs. Remember, a great diagnosis of the problem is just as important as the resolution of that problem itself. If your system isn't working normally, let us know right away.
You can always check to make sure that a standing pilot is lit, that the thermostat is set correctly, and that dampers are open and units are plugged in. Other than that, however, you should not attempt to service your own system. You risk doing damages, suffering personal injury, and voiding warranties if you try to fix it yourself.
Schedule your HVAC services with DuAll Heating & Cooling.