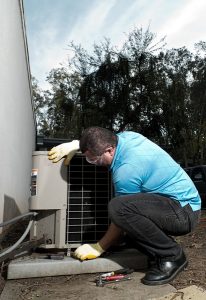 We are well into June at this point, and chances are that you've already been running your AC a fair amount. With temperatures creeping up into the nineties, it is safe to say that the heat of summer is back, and that it won't be going anywhere for a while. When you have run your AC this year, have you been happy with the results? While you may be tempted to just tolerate an uninspired performance from your air conditioner until the fall arrives, replacing it now really is the better option.
By planning your air conditioning replacement in Bolingbrook, IL, rather than waiting for the system to break down on potentially one of the hottest days of the year, you can limit any discomfort and inconvenience that you may face. Give us a call today if you are concerned about the overall performance or reliability of your air conditioner. Here are a few factors to keep in mind.
Your System's Age
All mechanical systems, whole-house air conditioners included, have finite lifespans. Your manufacturer is not going to be able to tell you the exact date that your air conditioner is going to fail, obviously. However, most systems have fairly accurate projections of just how long they are going to last. If your system seems to be struggling to cool your home the way you want it to, and it is really getting on in years or has already surpassed its expected lifespan, then replacement is definitely an option worth considering.
Your System's Performance
Have you been diligent in scheduling routine air conditioning maintenance each and every year? If so, good for you! That is the most important step that a homeowner can take in keeping his or her air conditioner in prime working condition. Unfortunately, it is not guaranteed to keep your system working properly all of the time. However, if you have kept up with routine maintenance, and your system still consistently fails to function properly, a replacement may be in order.
Your Overall Satisfaction
Did you inherit your air conditioning system with your home? That may mean that you have an air conditioner that you really would not have chosen for yourself, had you been given the opportunity. Now, it may seem strange to replace an air conditioner that is still functioning pretty well. However, you ought to be completely satisfied with your system, and that includes matters of design and operation.
Again, you may be tempted to wait until the summer has come to a close before replacing your system, but why go through an entire cooling season while continuing to use an air conditioner that just doesn't suit you? Instead, give us a call to discuss your options. By choosing your system and scheduling service while you still have an operational system in place, you can make the switch to a new AC as convenient and smooth as possible. Just contact a member of our team to discuss available cooling system options.
DuAll Heating & Cooling is here to handle your air conditioning replacement.