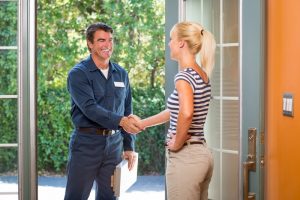 Furnaces have become the number one option amongst homeowners for home heating, and for good reason. They are great for providing quick comfort and operate quite efficiently. So, if you are in the market for a new heater this winter, consider installing a furnace. Or, if you currently own an outdated system, now might be the best time for furnace replacement in Naperville, IL.
A number of factors need to be considered before you install a new furnace, so it is important to understand the facts and speak with the right professionals before making any final decisions. In this week's blog, we have created a quick guide to installing a new furnace to get you off on the right foot. Keep reading below to learn more. 
1) The Advantages of a Furnace
There are many reasons why a furnace is an excellent choice for residential comfort. Here's a few of them:
Heating power: A furnace is one of the most powerful heating systems, as it is able to provide fast comfort and deliver heat to all areas of the home, keeping you warm and cozy all winter long.
Flexible fuel options: Furnaces can run on a variety of fuel sources, making them a convenient choice for homeowners with varying circumstances. Furnaces can run on either gas, propane, or electricity.
Energy efficiency: New furnaces can have AFUE ratings above 95%! This means that 95% of the energy being utilized becomes heat for your home. You will no longer have to worry about spending loads of money on wasted energy.
2) When is it Time for a New Furnace?
If you own an older furnace, it might be time to replace it if it meets any of the following criteria:
Age: An old, outdated furnace is simply not going to be as efficient as a newer model. Typically, the average lifespan of a furnace is anywhere between 10-15 years, so if your furnace has aged beyond this expectancy, it might be time to replace it.
Frequent repairs: Your furnace will need repair services from time to time, however, if you find yourself calling for repair services more than once a year, it's time to consider a replacement. Over time, your furnace will no longer be able to handle the stress caused by everyday wear and tear.
Increased heating bills: If your heating bills have been climbing over the last few months, it indicates that your furnace has become inefficient.
Remember, only a professional HVAC technician can determine whether or not replacing your furnace is a worthwhile investment, so consult with your local expert before making any decisions.
3) Hiring a Professional for Furnace Installation
Once it has been determined that you are ready for a new furnace, it is important that you hire a professional to get the job done correctly, as there are many factors that need to be considered. You and your HVAC technician will determine which fuel source is most appropriate. Additionally, the furnace will need to be properly sized before it is installed. Improper sizing could lead to:
Increased repairs
Uneven temperature
Inefficiency
Short cycling
Overheating
Cracked heat exchanger
Professional installation is key to ensuring the successful operation of your new system.